We take the hassle out of home installation by connecting you with a professional craftsman certified to install your new product.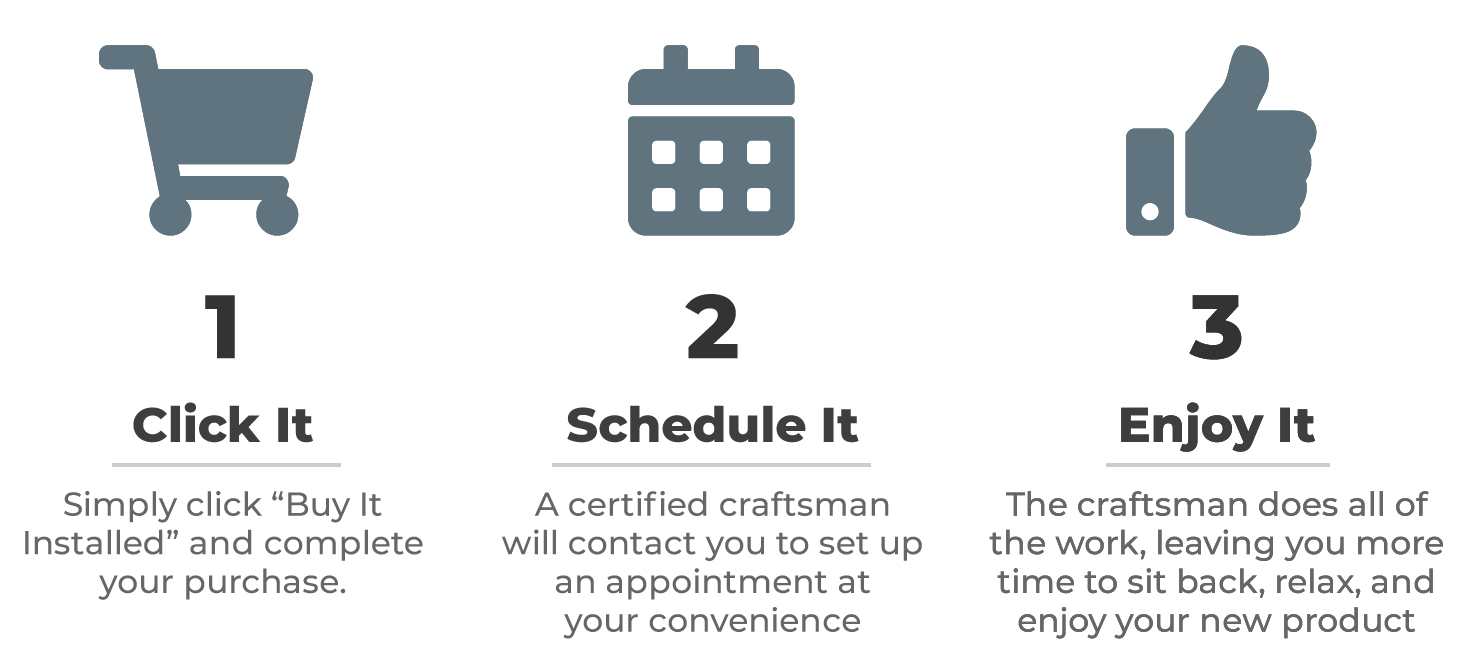 Professional Installation Makes It Easy
✔

Convenient Scheduling

Schedule your appointment once the product ships. You can easily reschedule or cancel anytime.
✔

Upfront Pricing

Know the cost before you buy.
✔

Quality Service

Craftsmen are prescreened, insured, and certified to install your new product.
✔

Total Happiness Guarantee

When you purchase your product using the Buy It Installed® Button, you'll receive installation service backed by our Total Happiness Guarantee. If you're not completely satisfied, we'll make it right.
Disclaimer By selecting professional installation, you are choosing to work directly with a 3rd party company, Buy It Installed, who will become your point of contact subject to their terms and conditions.
FAQs
What is included in the Buy It Installed® service?
You'll receive quality installation service from a certified professional craftsman.
How much will service purchased through Buy It Installed® cost?
The cost of service for each product is indicated on the product page.
How does the process work?
Once you purchase a product with installation through Buy It Installed® we immediately notify our network of certified craftsmen. A local craftsman will be matched to your service order and will call you to schedule a service appointment within 24 hours after your product has shipped. Craftsmen will generally perform installation services between 8 am and 6 pm throughout the week.
Who is my craftsman?
Craftsmen are prescreened, fully licensed and insured experts in their trade. In addition, each craftsman must complete a certification process to ensure they are qualified to install your new product.
How can I contact someone about my installation?
You can contact Buy It Installed customer support team via email at operations@buyitinstalledmail.com or give them a call at (629) 444-2894. Hours of operation are weekdays 5am – 5pm (PST), and Saturdays from 8 am - 12 pm (PST). We're always happy to help!
What if I want to cancel my installation?
Prior to scheduling service, you may cancel your order for a refund at any time. Once service is scheduled, the service order may be subject to a cancellation fee if cancelled with less than 24 hours' notice, or if you cancel on multiple occasions. For more information, please refer to our Division of Liability Policy at www.buyitinstalled.com/dol.
How long does it take?
Once the craftsman arrives at your home or office, the installation appointment usually takes one to two hours, depending on the product.
How quickly can I expect installation services once I receive my product?
This depends on several factors. If you have scheduled installation on or the day after you received your product, the entire process can be completed within 1-2 business days of receiving the product.
How should I prepare for my service appointment?
In preparation for your appointment, make sure your product has arrived as expected and appears ready for installation. Confirm it is the correct product and no parts are visibly broken. Make sure a person 18 years or older is present for the entire appointment.
As a courtesy, and if applicable, please inform your craftsman prior to the appointment of special parking requirements, such as any "No Parking" days for street sweeping. Please secure any pets away from the service area, both for their safety and the craftsman's safety.
What if my installation requires extra services or parts?
Occasionally, additional parts or service work are required for installation. This occurs in an estimated 10 percent or fewer of service appointments. If this happens during the service, your craftsman will let you know that additional work is required. You will also be notified and informed of the cost of the additional work, if any. You can then decide if you want to proceed with any additional service.