Create a Masculine Space with Modern Black Light Fixtures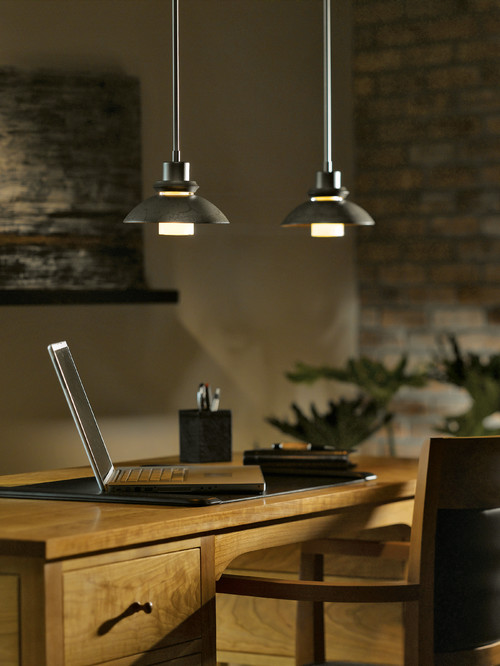 Aside from showcasing contemporary furniture in manly neutral colors, such as black, gray, or beige, investing in black modern contempo light fixtures is the best way to add a bold, masculine touch to any space in your home.  Lighting goes beyond its purpose of illumination, as it can serve to create mood and provide an interesting focal point in a room. Black light fixtures, in particular, add a mysterious and elegant charm. Here are examples of wall sconces, lamps, ceiling pendants, and semi-flush lights that are perfect for any man's space.
Living room
This Hubbardton Forge semi-flush mount in dark smoke finish with eclipse shade evokes relaxed and minimalist elegance. Ideal for small spaces with low ceilings, with just the right size and height. This light fixture will provide sufficient ambient lighting needed when entertaining guests.
Your end table lamp needs to have a stable base. This transitional lamp has a solid frame and base which, along with its very clean structure, is the right fixture to add to your living room.  It makes a great impression without even trying.
Dining room
Elegance and sophistication are not confined to chandeliers. For a masculine dining room, a ceiling pendant provides just the right look. Round ceiling pendants would look great hovering above any dining table, but if you wish to have a more edgy style, opt for this large square ceiling pendant.
For your dining room console, this table lamp with an artful stem and slim shade which is just 11.5 inches in diameter is perfect to provide additional lighting and also to highlight a framed photo or an artwork hanging on the wall. The width of the shade is ideal for this particular spot in your dining room, eliminating any probability of being accidently bumped.
Kitchen
This handsome mini pendant can be mounted singly atop a coffee table or in two's or more over a kitchen island to provide task lighting. A lot of activities take place in the kitchen aside from preparing meals. Projects, reports, handicrafts, and other hobbies are usually done here, so it is recommended to have task lighting fixtures installed for those times when you need adequate lighting. Also perfect for a home office.
Bathroom
Your bathroom does not need to be brightly lit every time you go in. There are times within the day when you would prefer less lighting, and this wall sconce is perfect to mount beside you bath vanity mirror.
Bedroom
Bedside lamps are not a strict requirement for bedrooms. Especially for smaller rooms, wall sconces planted beside each side of your bed will provide the kind of lighting you need for reading, reaching out to your phone or pair of glasses, or simply to provide soft illumination while you sleep.
As you can see, these light fixtures with minimalist designs in solid black are simple yet provide a bold impression, which is perfect for someone who prefers to have a masculine and modern feel into his (or her) home.